Fatal Frames has been released on Blu-Ray in Italy, in an English friendly release.
Besides including several (but not all) of the extras from the Synapse DVD (making of, deleted scenes, some of the music videos, ...), there's a new interview with Al Festa as well.
A limited edition was also available, with a postcard signed by Al Festa + the soundtrack, but sadly I missed it.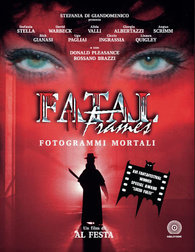 As a big "fan" of the film (it's a huge guilty pleasure of mine; check an earlier post I made about it above), I had to own this one in HD.
---
On a side note, I just noticed that today marks the 15th anniversary of my very first post on these forums, and it was a post about... Fatal Frames.
A lot has changed since then, but
if anyone from the "old guard" happens to check this post, my regards to all
.